Discussion on the previous post led me to work the floor plan some more seeking to gain back the legitmate laundry + utility room, and the ground floor powder room we believe Americans will demand.
Just not comfortable with the combination powder room + laundry + utility room from the first go round of the floor plan, we dove back in to see where we could possibly trim fat. Well the answer it seems was staring us in the face, and that was the 16 feet of available desktop space in the home office area. Now 16ft would be great, especially if you wanted to accommodate two people. But we will have an upstairs "homework" desk for the kids so we don't have to have space for them here. Plus having a legitimate kitchen table also makes a great place to do homework. So we resolved to carve a tiny powder room out of the home office.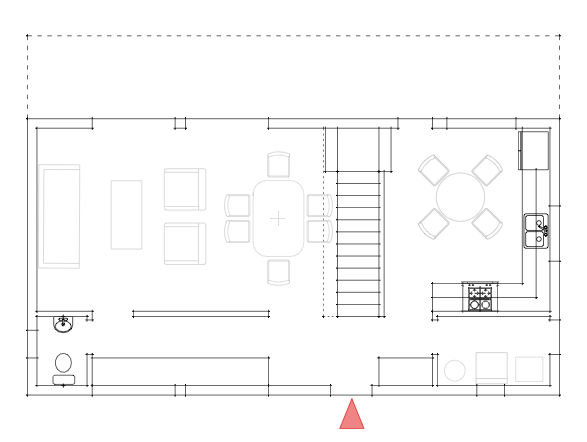 The result is still over 12ft of desktop length. Certainly enough for two people, or the option to have a vertical storage cabinet. The powder room is small and will require a tiny wall hung sink, but a small compromise really. Meanwhile back on the other side of the plan we have the old combo space now completely dedicated to laundry and utilities. I'm relived that I can make more space here because it widens the options for HVAC systems. This is important if people want to include a solar water heating system or AC air handler or whatever is appropriate for their climate. Side by side rather than stack laundry is also possible if your HVAC needs only one piece of equipment. We can also gain an entry door through the laundry + utility room, which is not something everybody wants or needs, but if you like that direct access its great that you can have it in this small floor plan.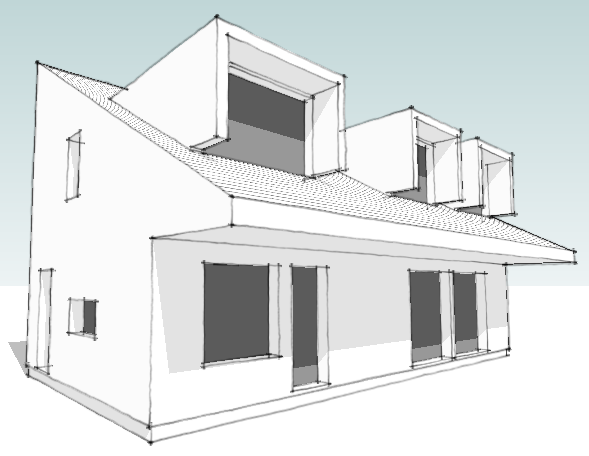 The developing massing model is a bit more informative than the prior wire-frames. The next step is revisiting the alternate floor plans. With the massing of the house having such a definitive solar orientation we now have to consider the situation where the house could be on the other side of the street. In other words facing the wrong way for our solar platform. We also have to consider street orientation - currently it works on a street running east west, but how about north south streets. We need a variation that has a front door on the end of the house.