The compact size of our proposed design triggers a series of compromises. We look at the plan of the typical Swedish catalog house to see if we can gain any insight.
Part of our effort to keep the footprint of the contest house design small also limits our options. We want the living spaces to feel spacious and open, yet our experience is that running any interior room from side to side in a house actually contributes to it feeling smaller. Somehow the presence of a "space beyond" where you are, or a "space between" here and there can contribute to a home feeling perceptually larger. When a house is small this becomes an important consideration.
I've placed the plan of the Anebyhus Lygnern design above the sketch of our contest house plan. The first thing we notice is that the Swedish house is essentially a 1 story design with two bedrooms on the ground floor. Officially it is what the Swedes call a 1.5 design, or a one story house with the option for the finishing of the second floor. That option would add 3 bedrooms, a bath, and a common family room to the home effectively doubling its size. With the upstairs finished the house tops out at around 2000sqft, 33% more than our target of 1500 sqft.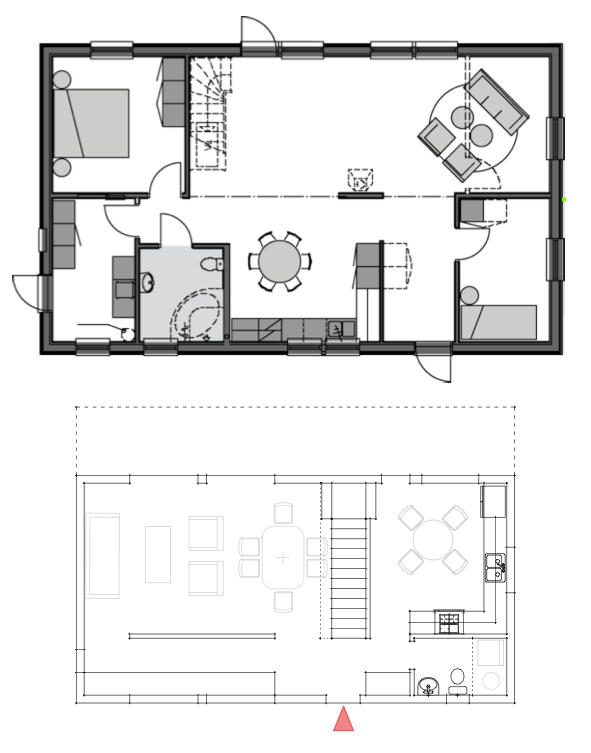 Yet there are significant things going on in the Swedish plan that save space. Things that are considered floor plan "poison" in the US. These are not criticisms of the Swedish design, but rather highlights of different cultural expectations in the US and Sweden. First of all the master bedroom shares its bathroom with the secondary bedroom - no private master bath. Compounding this is the bathroom is also doing duty as a powder room for guests. The second bedroom is also awkwardly located right at the entry foyer. Now if the second floor was completed, all of these issues resolve - the second bedroom becomes an ideal home office. But we will still find only one shared bathroom upstairs. Yet all of this shared bathroom saves space and makes for the opportunity for a very useful utility/laundry room. This is something that we are forced to sacrifice in order to create a first floor powder room. Utilities and laundry relegated to a closet in the same space - not a flexible solution. The American expectation for a master bathroom, and the awkwardness of sending a guest upstairs to find a bathroom puts us in the difficult position to provide 2.5 baths in a compact 1500 sqft home. Yet if we can package these desires into a plan at this size we've put good value and greater market appeal into a small house.