I've begun sketching out the massing of the house - wireframe drawings posted
I am planning on using a single slope roof with the intention of the house facing sunward, so that the upper portion of the roof slope can form a platform for solar collectors. Its functional, but also a design element - overtly stating its purpose through its form. Solar collectors could be placed on a conventional roof profile but that would make less of a statement. Scott and I are having a bit of a debate about this right now. He feels that profile is too much "design statement" and not enough "design solution". We don't agree here, and I acknowledge that the kind of modern houses in the Swedish catalogs are much more modest in their architectural exuberance. Yet compared to the range of wild design themes often used for high end modern houses, and the quietness of authentic vernacular homes, I do think I'm striking a good balance. Not only here but in the design themes of most of our house plans.
I'd love to hear readers opinions on this. I know there is not much here to react to yet, but you could look back to the XHouse3 for example and have the same discussion. If we want modern to live in the mainstream of home building in the US, what is the proper level of design? How far do we push it, how extreme or modest is going to be successful in the wider market?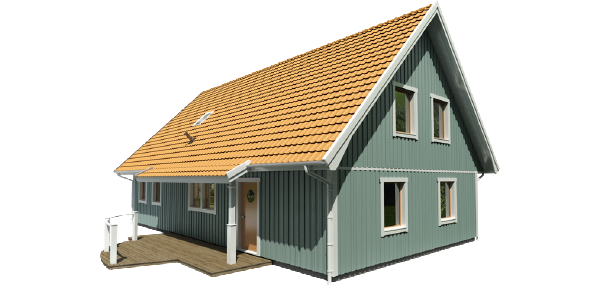 example of swedish modern/traditional (MoTrad) house: Anabyhus Lygnern