A big update from our customer in Austin. The Porch House is moving right along and is all sheathed in and under roof. The adjacent Plat House which they are also building - yes its a Camp House compound - is well under way with the framing going vertical. The Owner has over a dozen new photos for us which you can see in a photo browser after the jump.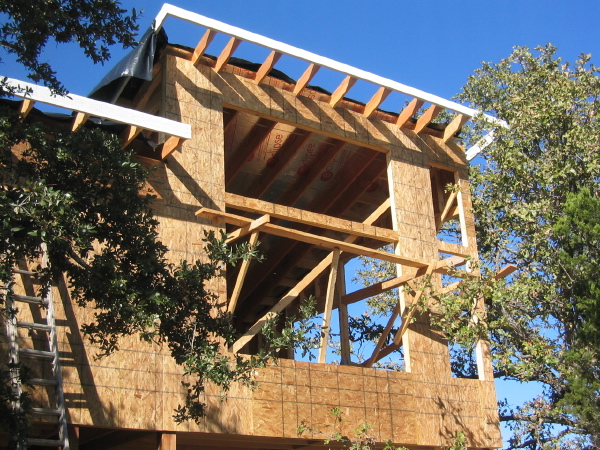 Some of the adaptations the Owner is making are obvious in these photos. You'll see an additional wall of windows on the side of the living room which greatly expands their view. And the roof slope which they have added to simplify collecting their rainwater is also easy to spot as well. You'll also see that the Owner has been welding up his own framing connectors for the Porch level posts and beams. This is an awesome hands on effort by the owner. Follow the link below to continue reading and more photos. Check out the Flickr set for this house where you can see all of the photos to date. And the photos are also part of theLamiDesign House Plan photo pool.
Technorati Tags: house plans, modern design, modern house, Plat House, Porch House
Continue reading "Austin Porch House - roof's on, Plat House framing up"