At the Virginia Plat House everything has been trimmed and is ready for the siding to go on. HVAC, plumbing, and electrical work should be under way as well.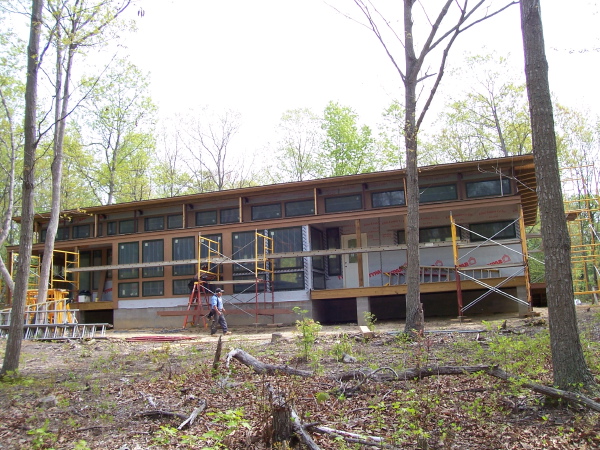 The color stain on the trim looks like a nice natural cedar. The owner told me that the siding boards were pre stained to make the finishing go a bit faster. You can also observe the steel brackets for the overhang in the photos of the back side. One thing that is different in this build is the owner has opted for shingle roofing - obviously more affordable than the metal roofing shown in the illustrations. For that they had to extend the plywood deck out to the end of the overhand, and I am guessing they did this with a double layer to build up strength and some bite for the roofing nails. The underside of the plywood deck is exposed at the overhangs. I'm not sure what their plan is for this. They may put up soffit boards, or go with the ply face which is cool too. There are three new photos of the house posted at the flickr set for this project. Also remember to look at the LamiDesign Flickr photo pool to see all the photos from customers documenting the house designs under construction. Our thanks go out to them for sharing their projects with us.
Technorati Tags: house plans, modern design, modern house, Plat House
Continue reading "Virgina Plat House - a quick update"