We've shown the development of the massing and the ground floor plan, but before we proceed to the solar orientation variations on the house we need to look at the second floor.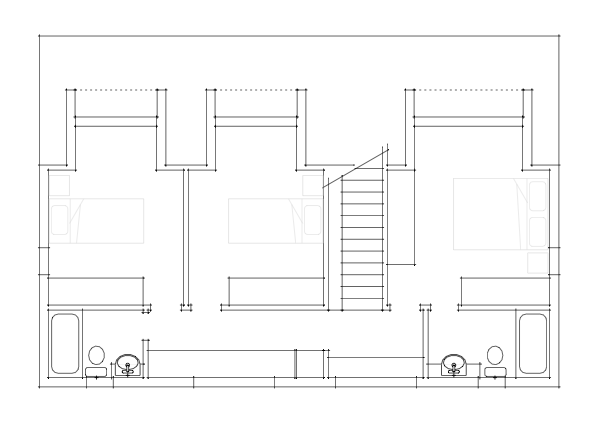 Each bedroom includes a dormer that extends the area of the room to a tolerable size. These are not big bedrooms - they are for sleeping, really not much room for a lot more than that. I think the closet space is good however, and if done with a wardrobe unit it can eliminate the need for a freestanding dresser which there is not really room for. If you can do that you will have room a chair by the window. At the top of the steps is a large window with a window seat. This may or may not be desirable depending on your site, but its a nice opportunity for a unique sitting place that makes the house live larger. Also in the upstairs hall is the kids homework desk - a long affair wide enough to manage two kids, computers, and crafts. Some space is reserved for a hall linen cabinet as well. Then we have two bathrooms at opposite ends of the house. The hall bath for the kids, and the slightly larger bath off the master bedroom. The hall also can provide access to an attic level HVAC unit if needed. The attic space is not large, but can provide needed mechanical space depending on the mix of equipment you need for your region.
So there is the basic second floor arrangement.