I have been working on renderings of this new XHouse2 version over the past few weeks, and I'm finally ready to show them. I'm not ready to reveal all the details of what this is about yet, but we can look at the images and at some of the differences.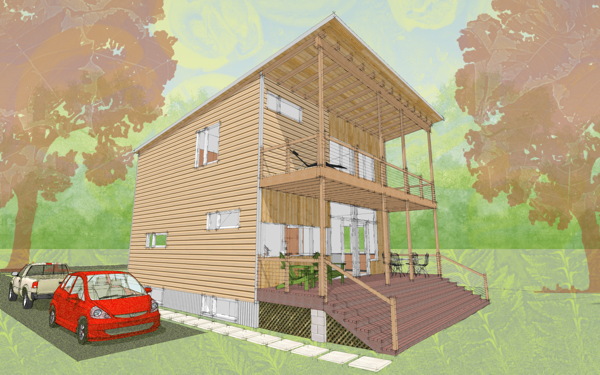 The Construction Prints for the XHouse2 include three different cladding schemes. There is a simple fiber-cement scheme combining lap siding panels and board and batten panels. There is a plastic laminate panel option which features exposed flashing at the joints. And there is the rain-screen cladding option which is the appearance which was featured in the renderings of the house. The first thing you will notice about this new version of the XHouse2 is that it is not sporting any of those cladding schemes.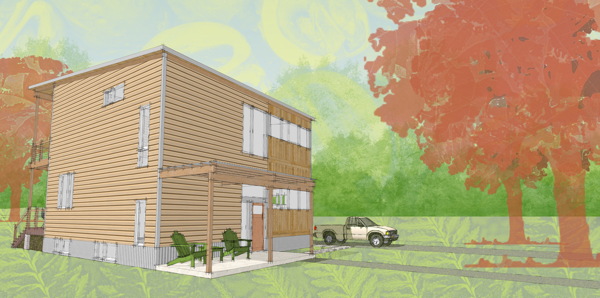 The cladding on this new XHouse2 scheme is a combination of ship-lapped horizontal panels, and flush vertical siding panels, all in solid wood. You will also notice that the steel framing from the original version is now replaced by timber post and beam framing. Similarly the cable railings are framed in wood rather than angle irons.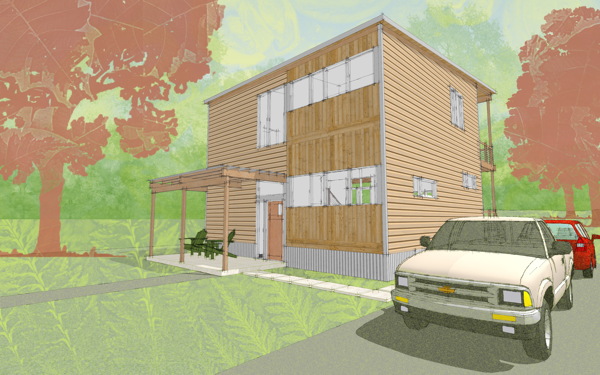 Lastly you'll notice that the foundation wall at the basement is now clad in corrugated metal which will be protecting an external insulation layer at the basement level, all designed for greater energy performance. Which will be key to this new version. Stay tuned, we are working to reveal this as fast as we can.