While the Owner is far from settled he has moved into the house. There are many loose ends to complete but it is very gratifying to see the house occupied. All that was missing was a life! These early morning pictures show the overhangs of the Plat House doing their job, and taking a bite out of the direct summer sun. The windows should be completely shaded by late morning. Here is the living room right in front of the fireplace.
And looking across the living room from the table bay adjacent to the kitchen.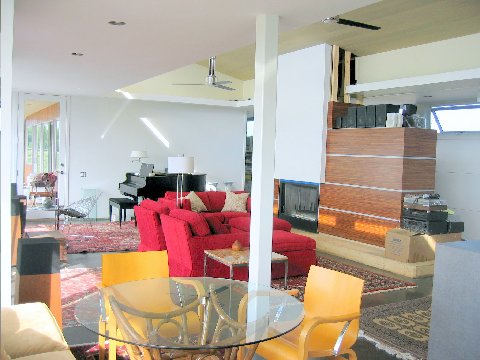 Perhaps it is the character of the furniture, or maybe the bit of move-in clutter that reminds me of lived-in clutter, but in the pictures the house has a feeling of inevitability, like it had always been there, always been lived in. An illusion I know, maybe one that only designers experience? We will revisit as he settles in and the loose ends are finished. There are things to do outside as well. I'm at once excited to see the house occupied, and sad to see the discovery of the house being realized come to an end.
Technorati Tags: house plans, modern design, modern house, Plat House