The first sketch proposal for the addition to the small beach house. First I should explain the context that this house is in. I use the term "beach house" because the community where its located is at the beach, but few if any houses are truly on the beach. All houses are excluded from the dune zone and sit in a zone inland from the dunes. Some of the houses which are right against the dunes will be bigger, taller to attempt to look over the dunes for an ocean view, but most have no chance! Sounds bad but it preserves the fragile dune ecosystem and protects the houses from atlantic storms. So what you have on the inland side of the dunes are older communities with a network of streets which are pretty similar to other late 40s early 50s neighborhoods. Mostly a grid of narrow streets without sidewalks. These stretch to the other waterfront which is the bay side. I didn't explain that. Most beaches here are not on the mainland, but on large barrier islands that lie just off the mainland. So these beach communities lie on these narrow strips of sandy island with a bay on one side, and the ocean on the other. So our project lies one property away from the bay, and about 3 blocks from the ocean. In placing the new bedroom above the one story porch - essentially turning the roof deck into the master bedroom - we will be providing it with a great view of the bay. The owners also wished for a balcony on the second level, something I felt might be beyond the budget and omitted from the first scheme.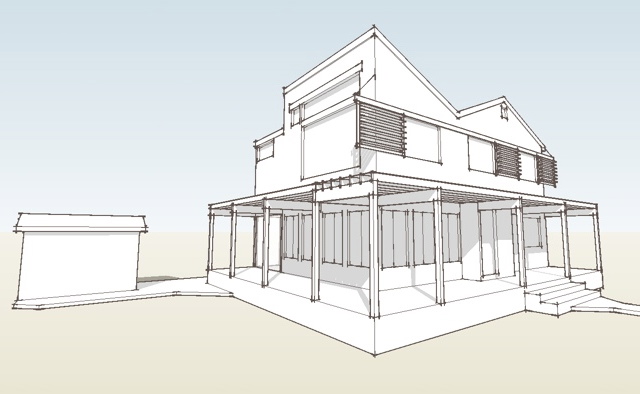 The idea here was to incorporate the existing roof line into a new and more dynamic profile. By removing the rake overhang and bringing the existing roof into a more purely geometric form we could bring out a more modern quality. This strategy also preserved the existing roof framing, and minimized our intervention, to extend what we could do with the budget.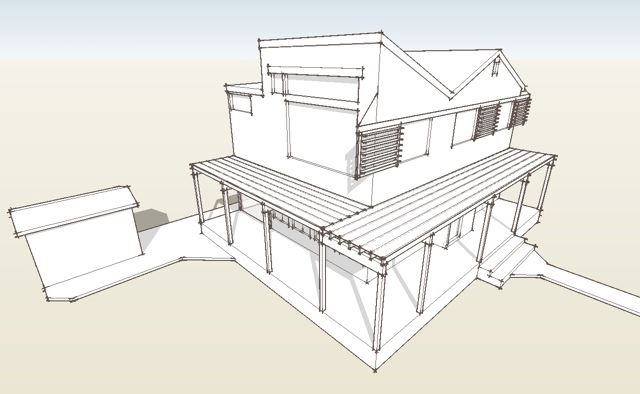 We also proposed a new wrap around porch, a characteristic of some of the older beach homes that date back to the late 1800s, early 1900s. It is a great mediating space between the street and the house, and a "hedge" that could easily become a balcony in scheme 2!
Technorati Tags: modern design, modern house