Some schematic views of a modular house project I've been working on. I have been working on the design of this house and with the client's blessing I am going to share some images of it today. It is our first foray into a house built with a modular system so it has been a chance to exercise some of the experience I have been building as prefab has become such a popular idea.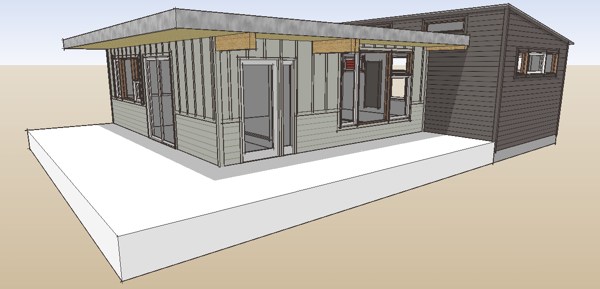 The side of the house above faces towards the strret. The un-rendered white area will be a deck and porch that wraps around the corner of the house. The site has a side yard orientation, so the back and other side are treated more like side yards and the living space's connection to the outdoors is primarily from the side. The footprint is about 1400 sqft and based on sketches brought into the process by the clients. There are 3 bedrooms, two baths, and open plan kitchen dining living area, and a small family room area as well.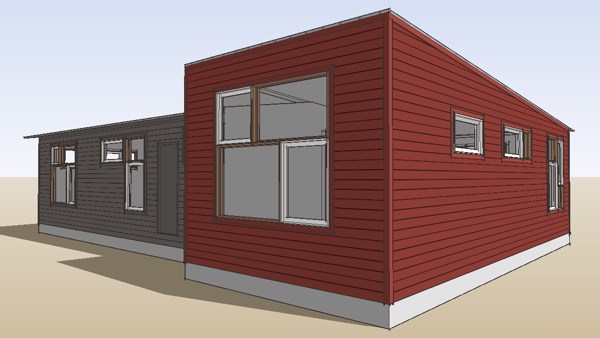 There are 4 modules, two containing the bedrooms and family room, and two that join to form the living and kitchen area. The four modules join in pairs to fit into two factory bays, and ship on two trailers. The roof heights are low to avoid the need for separate roof modules which would consume more factory space and more trailers/transport cost.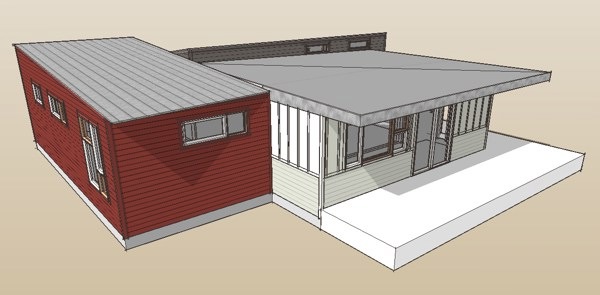 I know everybody is going to want to know what it costs - they don't have final numbers yet. They are going to be doing a great deal of the finish work themselves on site with friends and family for labor - even modular building can not beat sweat equity. As I learn more I'll try to quantify it.
Technorati Tags: modern design, modern house, modular house