A two bedroom module - a master bedroom with a pop-out and a secondary bedroom.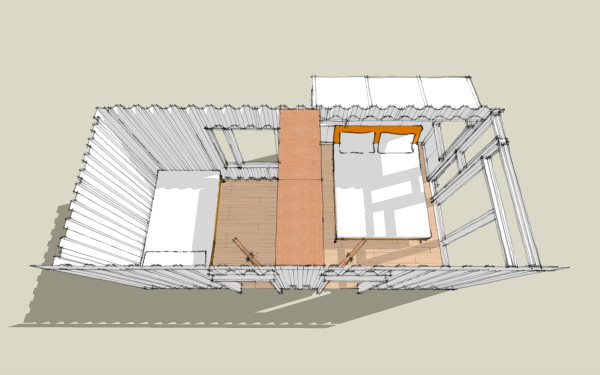 I know that is the smallest master bedroom you've ever seen - barely room to walk around a bed. Here is the thing - this can always be used with another larger master bedroom module just to make one of the other bedrooms larger. Maybe you are making a vacation house and having room for guests, or in-laws, or grown children is the priority. Maybe small bedrooms to sleep guests and larger living areas are the priority. Or maybe you just realize that you do little more than sleep in that room so why put any more space there than necessary.
With our rational system of predesigned modules its up to you - you can combine units to make the kind of accomodations you need, whether its a full time residence or a weekend house with room for guests and fun. There are lots of people proposing and/or building container houses out there in the big wide internet. None use the inherent modularity of containers this way. Nobody gets it the way we do. This modular system is why it makes sense to build with these - to leverage them to empower you to make the house you want, the house that fits your life.
This is Module-bedroom-2-variation 1, or Mb2.1