Its not a house design - its a platform for making house designs.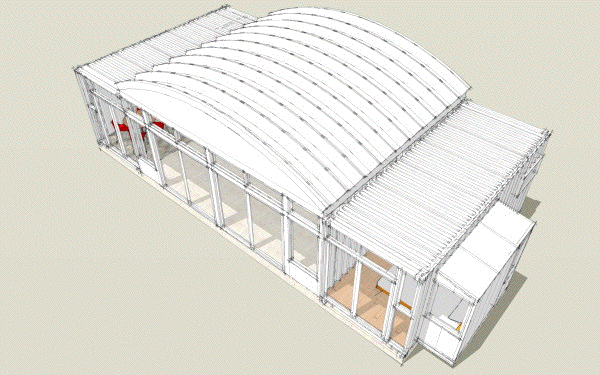 Does that make sense to you? We are designing houses here, yes, but more so, we are designing a way to make houses. If done right it becomes something that anybody can run with, something that spawns results that we will never imagine.
With a limited number of predesigned modules you can create floor plan variations at a factor of 3-4 for a given house design - or Schema as we are calling them. Working with a dozen module types we can easily create 40 or more different houses, some with subtle differences, some with great differences. And that is without resorting to simple variations such as mirrored floor plans. The dozen modules designs are based on slightly smaller set of 9 modified container boxes. Different fit-outs are possible within the modifications made to a given box which can yield multiple modules designs for a single set of box modifications. Owners can choose to create their own module fit-out within one of our standard modules expanding the range of possibilities.
Central to this is that we only need a limited number of physical modifications to the boxes to create the modules. They can be pre-engineered, calculations packaged and ready for permit applications simplifying the typically uncertain road for permitting this unusual construction. It reduces the set of modules to a manageable set of stock boxes, so much so that a vendor could even keep inventory. So now some improvement can be made over the every house custom merry-go-round, and one-off boxes and design work that goes along with it. Yet you are not locked into a limited number of house designs. Its a system designed for production.
Ok, raise your hand if this is starting to sink in.