The first of a new collection of house plans on the lamidesign.com/plans site. The new collection is to be modest in size, large on livability, family friendly, eminently build-able, with a contemporary modern presence and a bit of retro mid-century dash as well. The first in a series, introducing the Hus 1.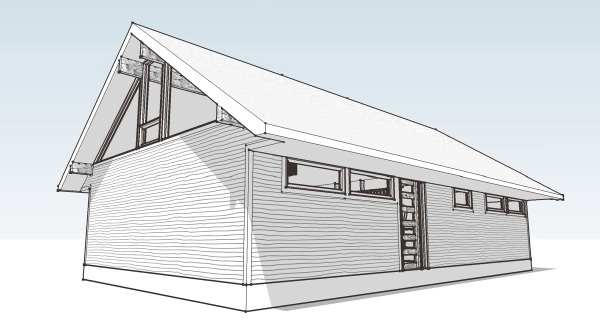 The result of my year long study of the Swedish housing industry, and my love of mid-century modernism, the Hus1 puts these influences together with practicality and livability of the many small 50s and 60s homes in my own neighborhood. The basic two bedroom house will start out at modest 1,350 sqft, or the larger 1,750 sqft 3 bedroom plan shown below. Both have the option of an additional 500 sqft master bedroom upstairs which in the larger plan allows the downstairs master to serve as a family room.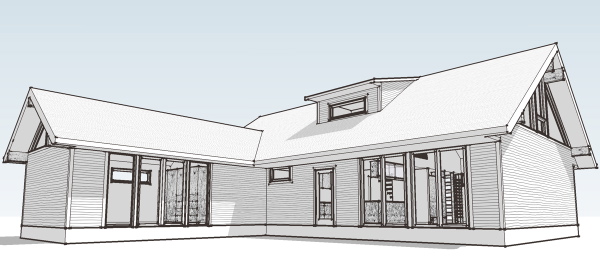 A very livable home, the L shape creates privacy for its rear terrace where family life can flow out from the living areas. Conventional construction makes this house easy to build, and the iconic traditional form won't scare the average home builder.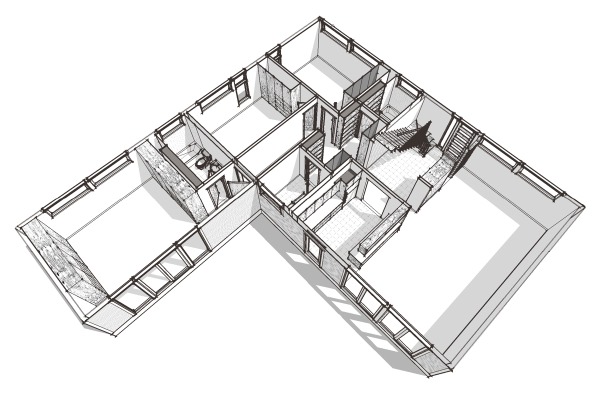 Look for Design Prints to come available on the site soon. Well, you will hear about it here when it happens! And yes, this is the house for which we have been experimenting with new drawing styles. Not quite sorted out yet, but when its done the new collection will have a distinct graphic look apart from the original collection of designs.
Technorati Tags: house plans, modern design, modern house, Hus1