We have completed the competition entry featuring the multi unit building composed of 1 bedroom IBU modules. And as promised earlier I am posting the drawing panels here on my blog. The proposal was for a student housing village composed of a series of these stack IBU structures. As the competition was being held in concert with a conference on green building, the student housing was proposed as a test bed for new sustainable energy and building systems. It was proposed that the units serve the Engineering school allowing for the students to live in and work at innovating and optimizing the new systems being designed at the school.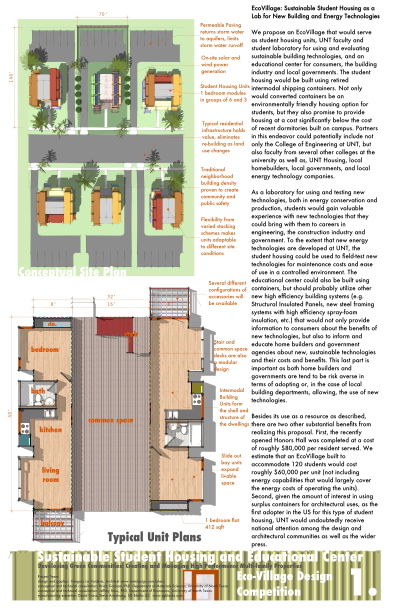 The first panel showed a conceptual site plan, and larger floor plan of typical units. Click on the images for a larger version.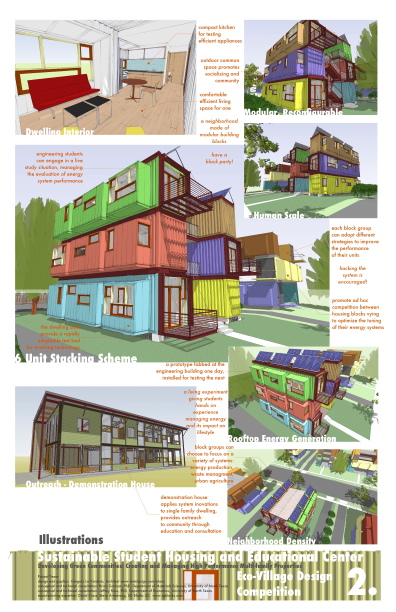 The second panel described characteristics of the experience living in the complex. One of our stock plans, the Steel Case House stood in for a demonstration house that was part of the concept for outreach.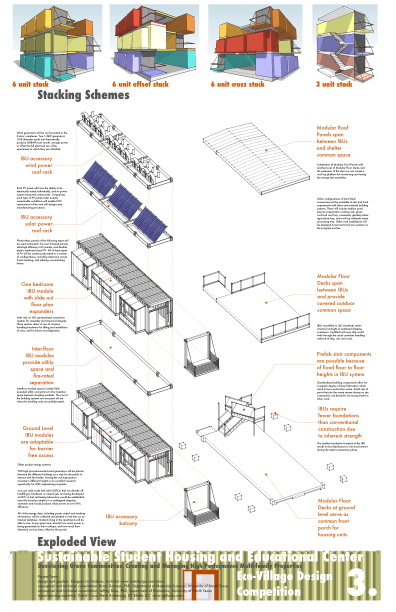 The final panel contains the exploded view which was previously posted, and describes the modular system in more detail, including outlining other options that are not illustrated. In some ways this panel has the most important information if you wish to understand how we will make the leap from this project to individual houses. Many of the accessories described here will be part of the house system as well, and the roof top options are particularly interesting and fun. I am really looking forward to developing these.
Technorati Tags: container house, modern design, modern house, prefab house