Although winter has stopped work outside, the house is under temporary roof, and the inside work has begun in earnest. Electricians and plumbers are roughing in their systems in the wall frame. Insulation of the house is in place, and the finished wood ceiling has been installed in a large portion of the house.

A panoramic view of the house lost in snow drifts! This is why outside work is at a standstill right now.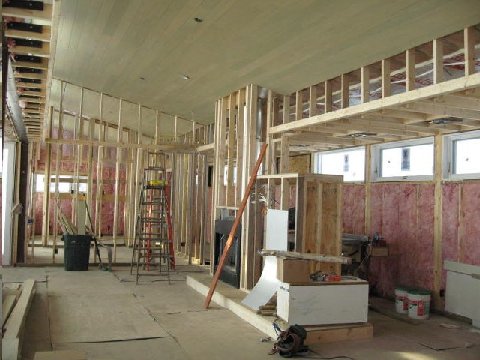 An overview of the living room space. The fire place is to the right with the gallery space slipping behind along the high windows. The wood ceiling is a pre-stained bass wood with a small reveal joint where the boards join. The room has a very intimate scale with the location of the fireplace free standing as it is. The lower ceiling of the bay window portion of the room is being wrapped around the space in a lighted soffit.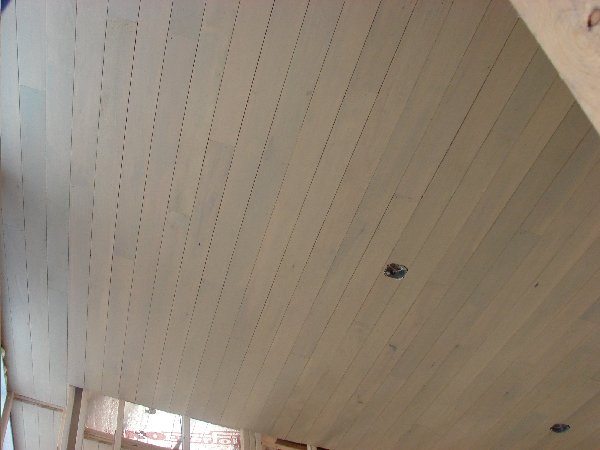 A close up of that wonderful ceiling. This was a not standard milled board - the v-joint that is common on milled tongue and groove boards was routed out to a square reveal joint to achieve this wonderfully smooth appearance.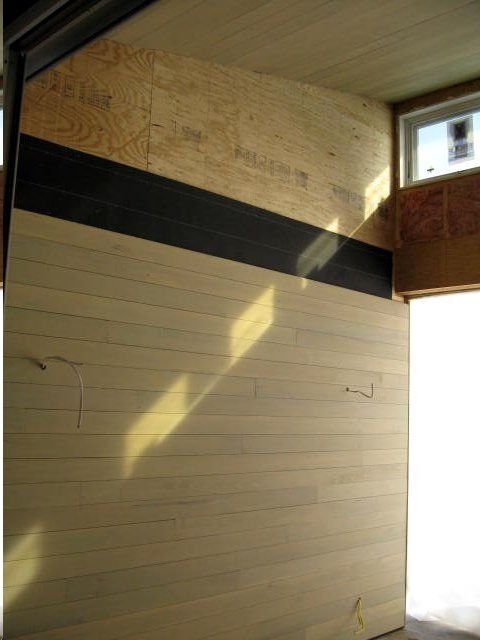 And the winter sunlight penetrating the space. We did look at the sun angles when designing in order to adjust the overhangs to allow for this winter sun & summer shade. Being that it is February now we are already two months past the lowest winter sun angles. This space is the summer dining porch that sits between the kitchen and master bedroom. Bass wood at the walls in this space as well. The great majority of these finish decisions are being made by my customer who is a mid-century modern enthusiast and home owner. He is bringing his broad experience with past re-hab projects to bear on this new construction and doing a wonderful job with his decisions. He is reading too, so let him know about it in the comments!
Technorati Tags: house plans, modern design, modern house, Plat House