In our last "Swedish Prefab" installment we looked at the innovations in electrical wiring and compared the round Swedish outlet boxes and plastic flexible conduit with loose conductors to the American system of square boxes and shielded wire cables (Romex). These Swedish products are not in the US ... yet. Plumbing is another area where there is noteworthy innovation in Sweden. However this innovation has made it the USA and is something that is rather common: Cross Linked Poly Ethylene or "PEX" tubing.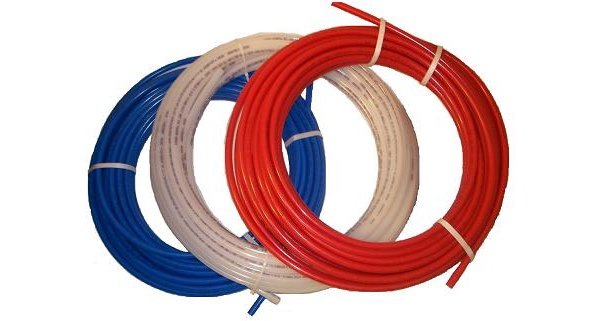 click the link below to continue reading A brief history: German chemist, Thomas Engel, invented the process for making this tubing in 1968, which he licenced to the Wirsbo Co. in Sweden. Wirsbo introduced PEX floor heating in Europe in 1972, and for potable water supply in 1973. The US market didn't see PEX until Wirsbo set up an office in Minnesota in '85 to market their technology. In Sweden today PEX is used in almost every job – and radiant floor heat is installed in 50% of the houses. While becoming more popular radiant head is not nearly as common in the US. Wirsbo is now part of the Upnor company, and numerous other manufacturers make and market PEX tubing systems. More info can be found: http://www.uponor.com/about/about_6_1.html http://www.theplumber.com/plumbinginventions.html http://www.ppfahome.org/pex/faqpex.html While numerous qualities account for PEX market share growth in the US and elsewere, our concern is how this new kind of plumbing facilitates off site construction. One way to look at this is to consider how traditional systems make off site construction more difficult. Rigid pipes, such as soldered copper tube, must be cut to very exact lengths and turns made with soldered elbows that can be unforgiving during handling. If a pipe was hit during handling joints hidden behind finishes could easily be damaged. Field joints in the pipes would either have to be stubbed out of panels and fed through adjacent work without damaging them, or left cut off within the wall panel, and that wall panel left unfinished in order to make the plumbing connections. All of which makes the process more difficult. With PEX, the flexible plastic piping can simply be left in a small coil where it exits the panel and easily passed through a hole in adjacent work to be connected later. It is a very rugged mateial, and it flexibility contributes to it ease of installation and durability during handling. Because of this it is possible to plumb and ship the walls with the plumbing in place, and to easily connect the the piping after the panels or modules are installed.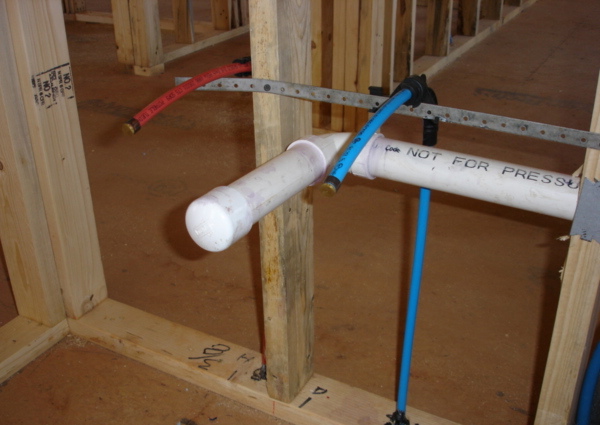 Although the US didn't see this technology until 15 years after it was invented, almost every plumber is familiar with the system, as are inspectors – and the uphill battle of changing standard practices in construction was undertaken by Wirsbo who saw the reward of gaining sales in the US market. The nature of product vs. system type of technology is interesting to note here - since pex tubing can and is often connected to standard copper fittings for the final connections in US plumbing fixtures. The Swedes also have a distinct approach to plumbing fixtures. This might not at first seem like an area that has anything to do with prefab construction, but in reality, the rationalization of the pipes and fixtures all fit within the "off site" and "low labor" model of Swedish building systems. In Sweden plumbing fixtures are treated more like appliances than built in work. For instance bathroom sinks are commonly surface mounted, with the supply and drain pipes serving them all exposed underneath. Bathtubs typically don't have the filler spout and valves mounted to them - they are on an adjacent wall. The tub usually is not connected to a drain pipe either - rather the tubs which are often on legs like an old fashioned claw foot tub simply dump out the bottom to a floor drain located under the tub. They have no hard connection to the house plumbing at all. Home owners shop new tubs te same way we might bring a frig or microwave into our new house.

So a bathroom in a Swedish prefab when its delivered is typically an empty room with the various plumbing connections ready to receive fixtures. This greatly reduces the complexity of the finished product. No cabinets to install, no tubs to set, no tile to fit over the plumbing fixtures, no shower pans with numerous angles and intersections. There are none of the fussy rough framing issues, built ins, and other work that usually make bathrooms the most expensive part of completing a house. There is nothing in this method that would prevent a bathroom from being finished out in a way that was more familiar to Americans. But what is key is that in Sweden it is customary for the builder to prepare the house to receive the bathroom fixtures which the homeowner can select in a "plug and play" fashion from the range of possible products.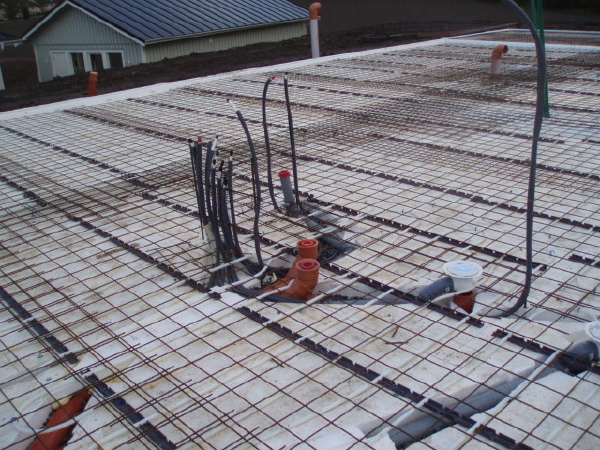 When you look at the foundations for a Swedish house you see a slab with pipes located at the planned locations ready to connect using the flexible Swedish system – indeed the plumbing has been rationalized for prefabrication. As with the windows, wiring, and other systems we've looked at, everything is designed to work in concert with the prefab process. With our slab ready to receive the walls, the next step is to deliver the house and connect all the parts on site. Thanks to Scott for photos, links, and cross editing with me. Previously: Letters from Sweden - wiring zen Letters from Sweden - a windows tale Letters from Sweden - panel building in Sweden vs the USA Letters from Sweden - Europe is different, Sweden is not, sort of.. Letters from Sweden - land of modern, land of prefab Letters from Sweden - conversations with an expatriate builder
Technorati Tags: modern design, modern house, prefab house