Time to look at another schematic scheme from the suburban house project. This scheme was centered around an interesting idea about how to organize the house, but also departed from the previous schemes because of this. Here the living+dining+kitchen space is imagined as a glazed rectangular volume set atop a plinth containing the rest of the functions of the house.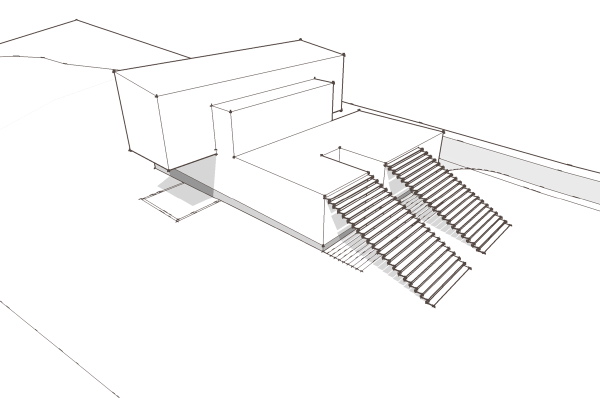 This may be a little bit harder to imagine because the schematic model really does not give a good representation of how this would be integrated into the landscape. The plinth would be masonry, sunk into the earth, the stairs at the front looking like a bit of a ruin, emerging out of the landscape (which with fill needed for the site would not be as long as shown in the illustrations). The bar atop is lighter, framed, with many windows, cantilevering off the base on both sides. Click the link below to continue reading.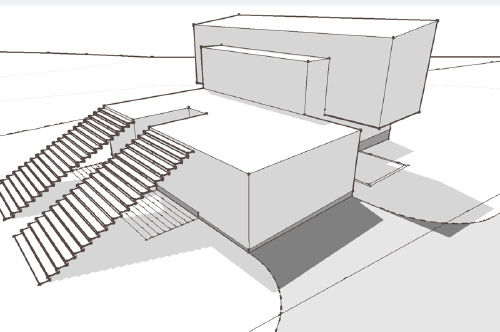 When you approach the house there are two ways to enter. If you go up these steps at the front of the house you then walk across pavers on a green roof to a "front" door in the living dining kitchen bar. There is a smaller volume extending towards the front of the house here which is relatively solid, and beyond it the volume of the bar is more transparent. You enter through the door and step into the broad view through the bar into the landscape beyond. Another green roof and roof terrace mediates between the room and the landscape.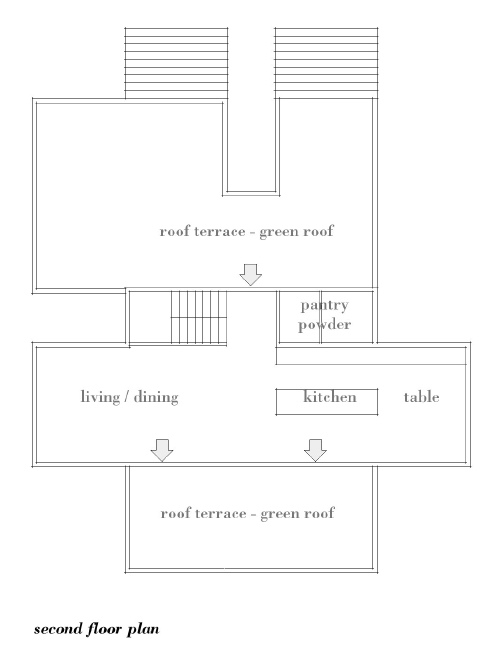 The second way to approach is to descend into the grotto that exists between the pair of front steps which will take you to an entry door. This door brings you into a center hall at the lower level of the house. The home office and studio is to one side, and the entry to the house from the garage is at the other. Beyond is a stair with light descending from above, and further the two secondary bedrooms. Each of these rooms is at grade and has a small patio, its own private outdoor space sheltered by the bar above. At the end of the hall is the master bedroom suite which also has its own patio at grade extending off the end of the house.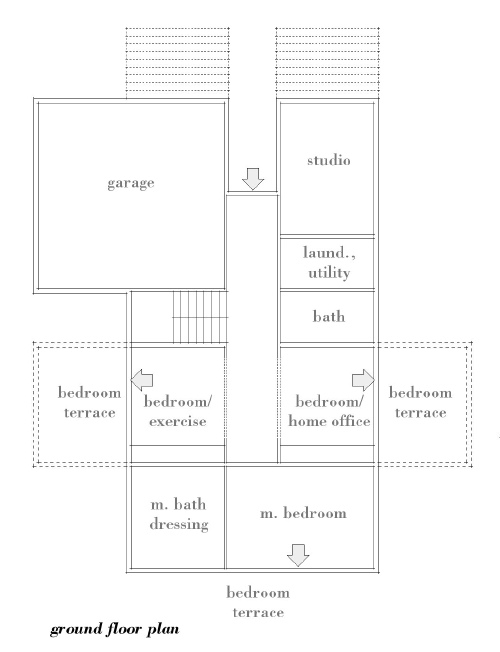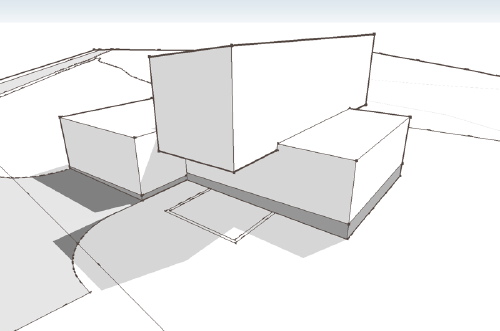 I've tried to describe the house more as an experience, since this rough model does so little to describe the definitive characteristics of the house. This proposal did not meet the brief for the project in many ways, but it still remains an intriguing idea for me. Perhaps it will find its place as a house plan in the future.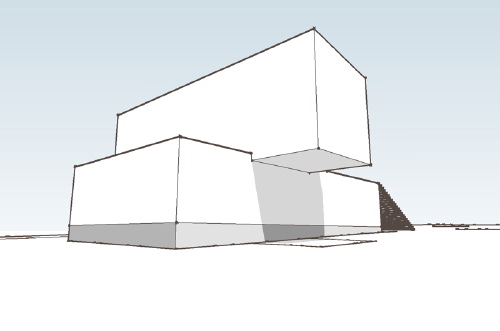 Technorati Tags: modern design, modern house