The framing is all done and the roofing work has actually begun now. I think we will see the builder moving to make the shell weather tight now that the framing up is all but done. Roofing will go on, house wrap, and windows installed in the lead up to the siding of the house.
Above we see the front of the house with just a little work to do on the last bay window, but the roofing felt is already down which means the roofer is on site now while the carpenters are finishing up.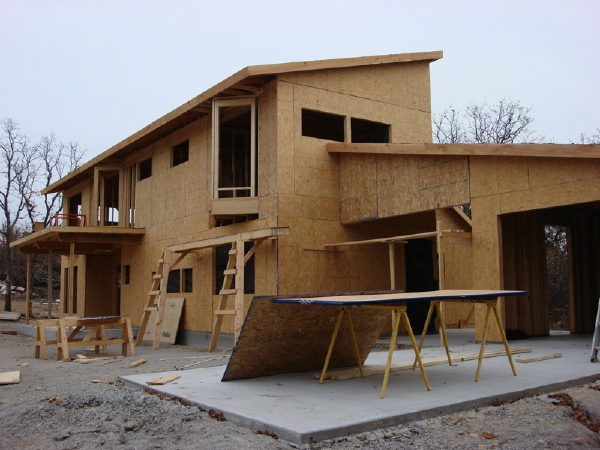 Here is the corner of the house next to the carport. Yup, that's a Tray house if I ever saw one. The house is turning out very well and the owner is taking some great process shots.

A great fish-eye view of the overlook to the living spaces from the hallway above. These photos and more are posted to their Flickr page, and we have begun mirroring them as well on our own Flickr set as well. You can also find all the photos in the LamiDesign House Plan photo pool. Here is a photo stream of all the new shots.
Technorati Tags: house plans, modern design, modern house, Tray House