An amazing turn out for promotion of modern prefab homes. We just got back from the CABoom Show in Santa Monica. It really was an amazing show. A relatively small show for local modern furniture and housewares, for the first time this year had a special section for prefab homes. I am not sure if this was the first time since our little modern revolution began that prefab house vendors were brought together like this for a promotion, but I don't remember any other occasion such as this. Well, I must say that it was a tremendous success. The place was packed for the 3 days I was there for the EcoSteel booth. There were 10 vendors represented in a separate room off of the main space of the Santa Monica Civic Auditorium. Each vendor's booth was filled with inquiring visitors almost continuously for the entire time. For intervals it was just packed, several people deep with those on the perimeter listening in on the conversations going on. This was an amazing sight, so very encouraging that this whole re-modern movement is not a flash in the pan. Have no doubt that there is an interested public out there. Of course many of the visitors were from LA, but there were many more that came from abroad, some specifically to visit this part of the show. I met several readers of this very blog who have been following the construction of the 6030 House this month.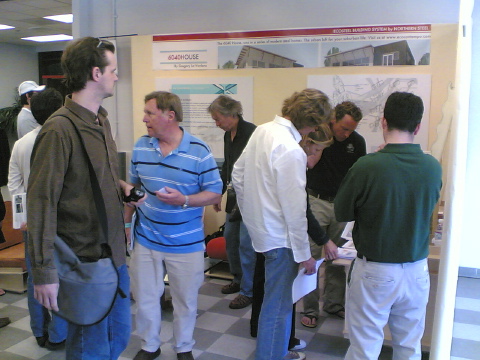 The EcoSteel booth at the FabPreFab Zone
I really have to thank the enthusiatic visitors, especially the people that are readers here and participants at LiveModern. It was also great to meet so many of the other vendors. I met Marshall Mayer, our host here at LiveModern, in person for the first time. I also had a nice surprise in the form of a visit from Sara and David Sage who came down from their new modular home so we would have a chance to meet in person.
Technorati Tags: ecosteel, modern design, modern house, prefab house