I had a chance to get out to central Pennsylvania last week and visit the Plat House that is under construction. Yes, we've been selling houseplans now for 10 years, and this is the first time I've ever been able to visit one in person, whether built or underway. Amazing, but that's the nature of houseplans - the price of plans does not include travel expenses. So it was a great thrill to visit and walk around and through a house that has until now only existed in my mind.

Our customer is building the 3 bedroom version of the Plat House in central PA. He has a beautiful site for the house. Its on a sloping site overlooking the Susquehanna River. Its broad in this region, so there is a lot of water out there and it makes for a beautiful view. The site is wooded with other homes on the adjacent lots. But none of them too close to feel suburban, and none too far to feel alone in the woods. Its a nice balance. The side is sloping gently down from the road, and all told it is really an ideal site for this house.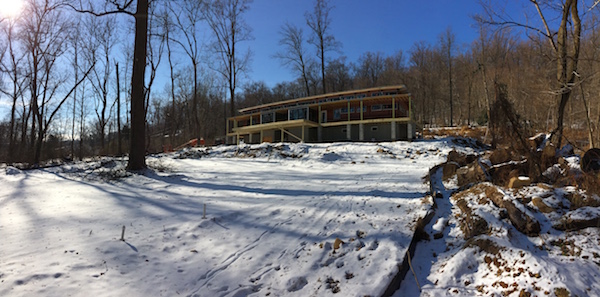 The Owner has also been able to put the house on a basement. Due to the site slope being mostly located at the back of the lot towards the road the basement will be a walk-out. He has used a pre-cast concrete foundation wall for the speed it brought to the job. It also makes for a basement that extremely easy to insulate and easy to finish.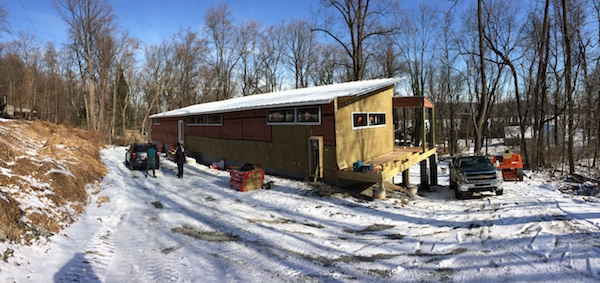 Inside the house I have to admit with being delighted with the scale of the space, and the mixture of intimacy from the small scale, and spaciousness from the loft of the ceiling. There is no way around this being a compact 3 bedroom house, but its length makes it feel bigger, and the spaces never feel cramped. This design has been the choice of everything from singles, to young families, to retirees. Its really a blank canvas you can paint your life on.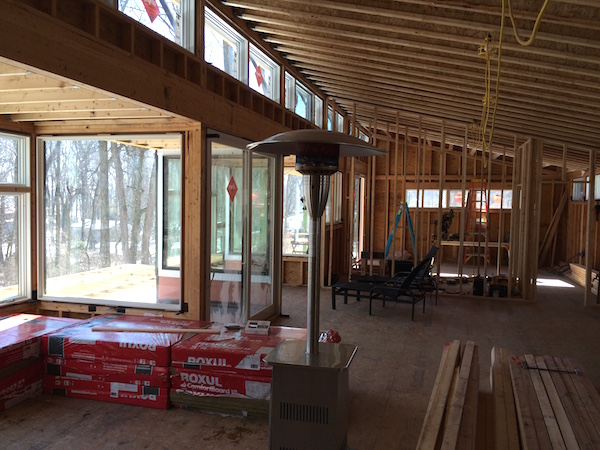 We are grateful to our customers, not only for sharing their houses, but for doing such an amazing job with their houses. Architects like me are accustomed to being heavily involved the construction of their designs, working with the builder to see that the plans are followed and the houses executed just right. None of that can happen here with houseplan customers spread all across the country. Yet time and time again these customers step up and do a fantastic job building their houses, making me damn proud of the work and thrilled to show them to you readers here on the blog.
As always more photos of the house, and more photos from my site visit may be found on the Flickr album for this house. Thanks again for following this build with me.