When we last left our customer MJ they had tried and failed to acquire a site for their new XHouse1. The site was in the right neighborhood, the right school district, the right price range. It had some characteristics that were not perfect, but not the deal killer. The deal killer was the the property owner's prejudice against a modern house, the scourge of anyone seeking a modern home.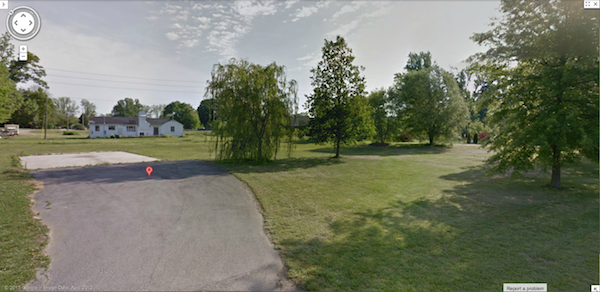 lot number two, a good prospect
MJ and family returned to the property search and came up with another lot in a similar situation. At the end of a no-outlet street, mature trees on borders of the site, an established neighborhood with a diverse range of housing. So what was an empty lot like you doing in a neighborhood like this?
There was a concrete slab on the site, so clearly there had been a structure here before, a house, at least a garage. It turned out that there had been a house there, and it had been destroyed in a tornado some years ago. A similar house across the street was also gone, and a new house is already there in its place. Which explains the sprinkling of new houses in this established neighborhood. The newer McMansion style homes stand out from the modest ranchers that make up the neighborhood.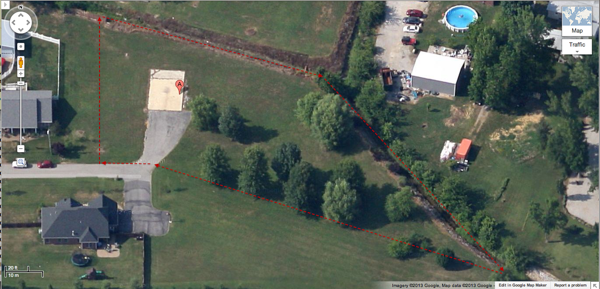 lot plan, quiet at the end of the street
This site also happened to be oriented correctly so that the plans did not need to be mirrored. There was no oversight by a neighbor or critical input from the land owner. Right location, right school, right setting - they made their offer and it was accepted. Settlement dates were set, and now MJ had to make sure the rest of the project would fly before closing on the land.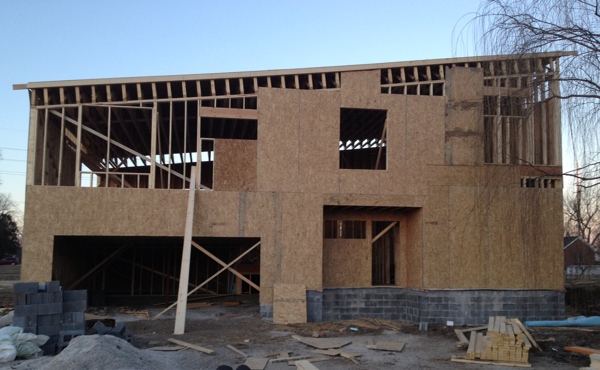 framing of the XHouse1 nearly complete
Back in real time great progress is being made on the house. The carpenters have made short work of the framing, and it topped out this week. The bulk of the framing is done and once the interior partitions are complete then the HVAC, Plumbing, and Electical system rough-ins can begin. Follow along the with the progress as we post photos to the Flickr album.