Although I've not been reporting on it here on the blog, followers on G+ and Facebook know I have been moving the Row House concept along at a steady pace. I thought it was time for an update. Last time I reported on this effort I showed the range of designs for the Transverse Stair paradigm. Today we'll look at the Longitudinal Stair paradigm.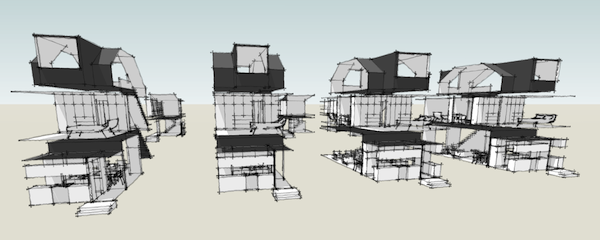 The nature of the Transverse Stair is that it divides the floor plate into two halves. This works well on the bedroom floors, however on the living floor it dictates a division between the living program of the house. In the Transverse Stair version we exploited that by emphasizing the division with a change in level. We put the living space up front, and a multi-function kitchen and dining space in back.
The nature of a Longitudinal Stair is different. It lives along the side of the floor plate, and depending on if its in front or rear, it exerts a different influence. I've chosen to move to the rear, a more modern attitude I think. In my mind this embeds the stair deeper into the family life of the house. Instead of being greeted at the front door by the passage to the most private areas of the home, the stair instead comes down into the heart of the living areas. The stair located at the side of the floor plate allows a more open and fluid treatment of the living space. I've chosen to make a discreet kitchen workspace at the front of the house, to form a physical buffer from the street, and allowing for a larger open living and dining space at the rear. This is a deliberate contrast from the configuration of my Transverse Stair model.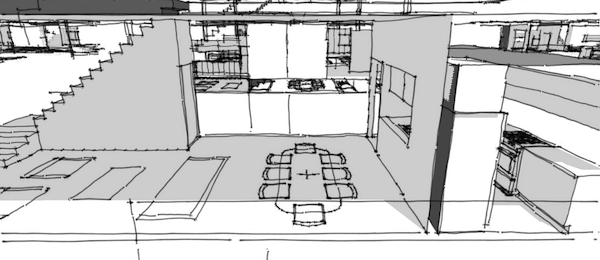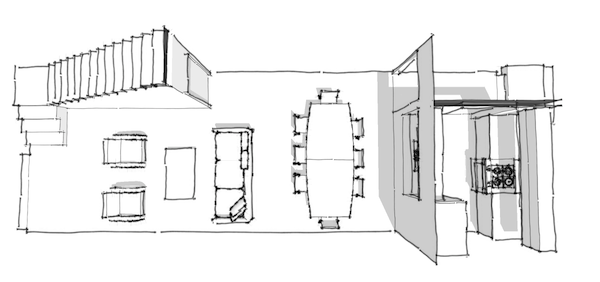 The living floor plan here does not include the change in level we saw in the Transverse plan. Here the kitchen forms the buffer from the street that the higher entry stoop did in the former.
The second floor centers the shared bath between the front and rear bedrooms, and the stair starting at the rear lands in the center of the house.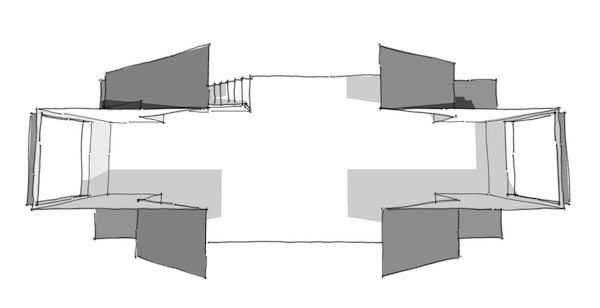 The attic floor is much the same as the Transverse design with similar opportunities to divide into bedrooms or leave open as a family room or home office. Following the same pattern as before this house design has 14ft, 16ft, 18ft, and 18ft expanded versions.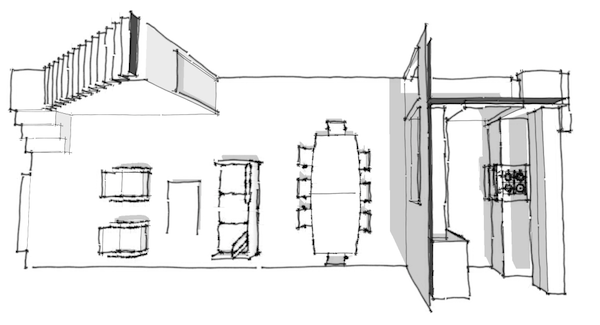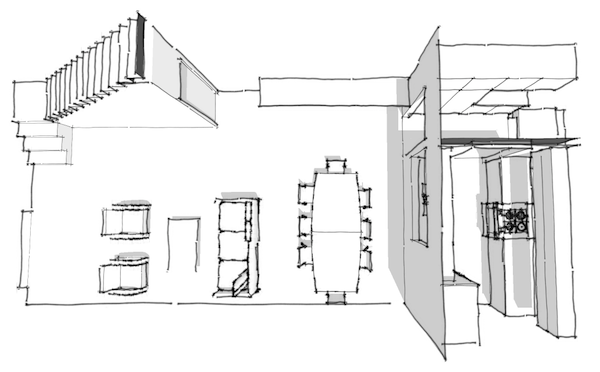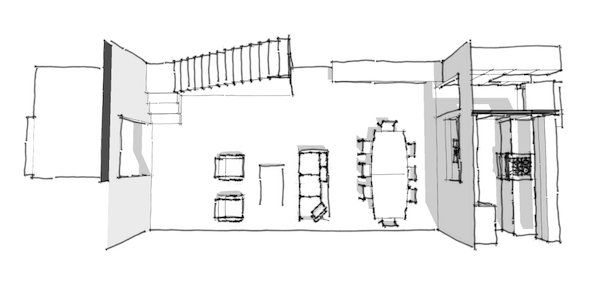 In our next entry we will explore the 2story, 2.5story, and 3story variations in more detail.