Super happy to announce a new plan set today - the West/East Version of the 0970 Lagom House. The Lagom House was concieved from the start to have a massing that oriented the house to the sun, and as such would have a slightly different version depending on how the building lot was oriented. The Southside version and the Northside version were completed some time ago, so with great satisfaction today we add the final version for building lots on either side of a north/south running street.
In the house design competition that spawned the Lagom House design it was proposed that the house be available in 3 variations, so as to optimize the exposure of the roof surface for solar gain, as well as the seasonal shading of the windows. In a practical manner it also allows a developer to add variety to a neighborhood as the houses change their presentation to the street depending on their location.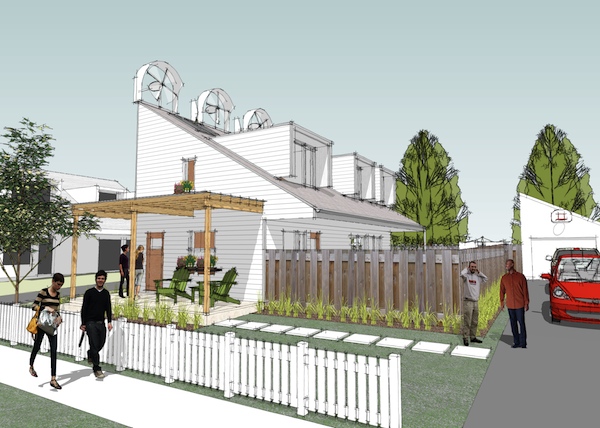 When combined with the two story 1192 2 Story Lagom House a builder can offer a satisfying mix of houses, while at the same time enjoying the speed of building and economies that come from building a repetitive design. Score one for smart design.
As with the other Lagom House designs, this new version also incorporates our energy efficient USA New Wall designs in both 2x6 and 2x8 versions. The framing documentation also utilizes our Swedish Platform Framing for added energy efficiency. This is a one of a kind product - there are no other vendor of stock plans that incorporate these advanced energy efficient techniques. The Lagom Houses comprise an off the shelf option for creating an energy efficient neighborhood. Now any small developer/builder can offer the most advanced energy efficient product available in the country without the cost of custom designs.
The door is wide open now. Who is the builder that will take this up, and out-perform their contemporaries in their market? I am looking for you.