Traditionally bigger houses have always been worth more? Recently value seems to be in transition, where size is no longer the sole measure of a home's worth. So why would you go against the past trend of more equals more? How could less equal more for you?
Well, for one, smaller houses cost less. Spending less on your house means you have more available for other parts of your life. Maybe you like to travel, maybe you value having another small weekend house instead of one big house. Maybe you've committed to private schooling for your kids. Maybe you just want to work less and enjoy life more. Maybe you want to spend more on making your house energy efficient, and building a smaller house leaves budget available for more insulation and high efficiency equipment. A smaller house uses less energy on an ongoing basis, which again frees money for other parts of life, and a highly energy efficient home frees even more. A smaller house means less to clean, less to wash, less to repaint, less to take care of.
So say that all sounds great, and resonates with your values and your aspirations. You never wanted a big house, but you do have needs. You need three bedrooms, and one of you work out of the house, and the kids need a space for homework and hobbies, you don't want to feel cramped and you're afraid you cant shove all that into a small house.
To that we say Welcome to the Lagom House 2 Story, with 1,540 sqft, 3 bedrooms, 2.5 baths, home office, kids homework area, a front porch, and a screened patio out back. Small enough to be highly efficient, smartly designed to live big beyond its square feet. Built with the highly insulated USA New Wall, and Swedish Platform Framing, it will perform efficiently in the toughest American climates.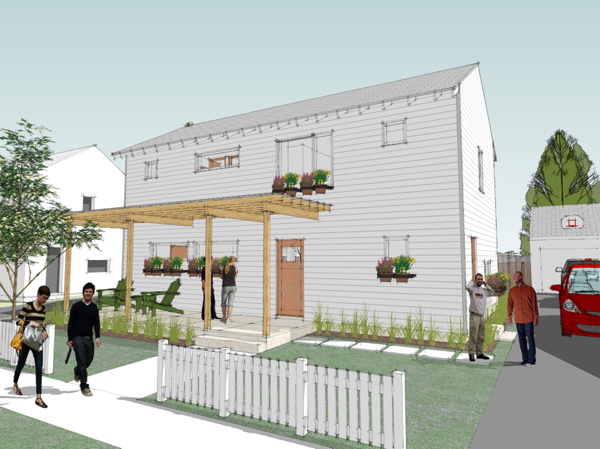 Construction Prints are complete and available in the catalog.