Points the way to our Blueprints Plan Collection that is. Yes, we are gearing up to address the long dormant Blueprints Collection of our plan catalog.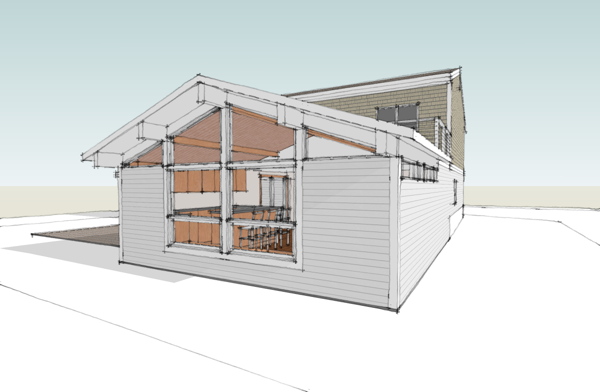 We've been slow to add any new designs to the Blueprints Collection. If you recall this plan collection is intended to directly evoke the architectural style of the much loved mid-century modern style of American homes. I've been concentrating on filling out other portions of the catalog and so for some time this collection has not seen any development.
This project from my local practice has actually provided a platform to vet certain ideas about how to build a mid-century looking house today, with today's building codes and today's common materials, without it becoming prohibitively expensive for those of modest means. There are some technical issues to conquer that play out in the aesthetic. The thin roof line of period mid-century homes is difficult to reproduce today because we need thicker roof assemblies to accommodate adequate insulation. The post and beam framing of many of these classic houses is hard to get around. It will simply cost more than conventional framing. But can we get around the precious large dimension lumber and and planks that are so identified with the style..?
We're working on it.