The EcoSteel pacakge for the New Mexico EcoSteel House is more or less complete. Photos from the owner show most of the components in place, and the house and other structures fully trimmed out. Interior work at the house will be ongoing for a little while and we hope to have updates of the finished interior when its done. But until then we have new photos of the structures by the owner.

click through the link below for more photos. Here the covered walk between the house and garage is in place and we can see all the trim on the house now. This photo would be late in the day as the entry side of the house faces westerly. Sitework remains to be done and I am not sure what the owner's plans are in that regard. It would be nice for the indigenous ground cover to reclaim the disturbed construction area and grow right up to the house. You get more of a sense of that vision in the second photo below.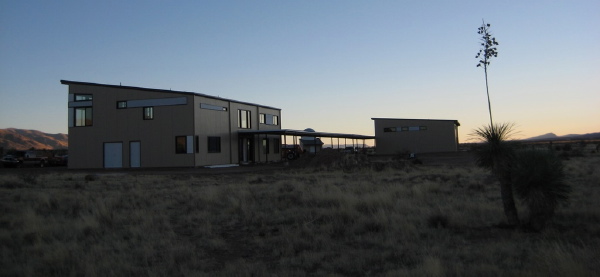 Remember you can see photos of the entire build on the Flickr New Mexico EcoSteel House photo set, and all the EcoSteel projects in the EcoSteel photo pool.
Technorati Tags: ecosteel, modern design, modern house, prefab house