Siding panels are going up on the Austin Porch House project and the big news is the progress of the Plat House. Last we saw a bunch of sticks going up - in the new set of photos from the owner it is now most certainly a house.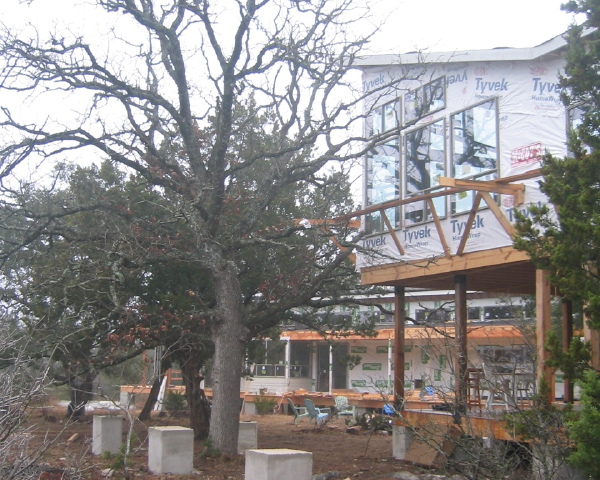 Across their courtyard you can see the Plat House facing the Porch House. This has been one of the most innovative uses of our house plans to date. With the usual household program spread between the two structures the owners have created their own "village". The variety of spaces they will have available for family life will be very rich indeed. More photos after the jump link below.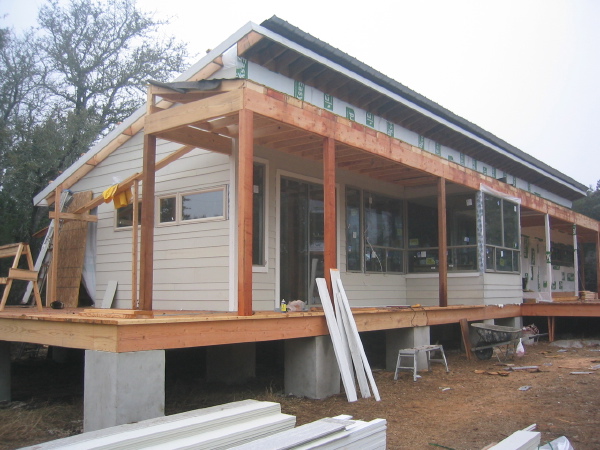 Here you can see the interesting pattern of siding they have chosen. It appears to be a smooth faced cement board siding panel, but laid up in varying exposures. This is a treatment you might often see on a traditional cedar shingle siding and its really great to see this reinterpreted in a contemporary material like cement siding and used here. Check out the Flickr set for this house where you can see all of the photos to date. And these photos are also part of theLamiDesign House Plan photo pool.
Technorati Tags: house plans, modern design, modern house, Plat House, Porch House