The Maine Plat House has come a long way in the past few weeks. We have a new group of pictures to share that have been posted slowly to the Flickr set through August.
Last time we looked the framing was done, the house was wrapped, and the windows and doors had been installed. What next? The cladding of course. And the owner choose a beautiful cladding, in the Maine tradition - cedar shingles. Yikes, such a beautiful look for the Plat House.
I think this is the first Plat House to be shingled. We actually used shingles in the illustrations of the Plat House 3 design, which is the slightly larger 3 bedroom version of the Plat House. The original house was rendered with cedar lap siding, but we used shingles on the Plat House 3 just because we always thought it would look good this way.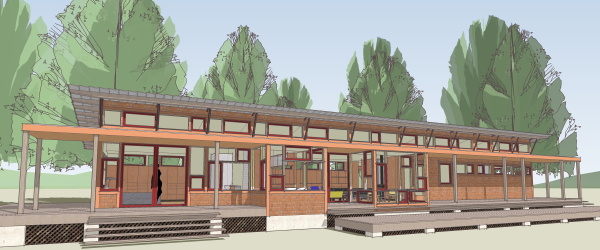 Once the cladding is complete the builder will move on to finishing the interior. Not so long now till the whole thing will be done. This build has gone extremely smooth. There are more photos in a browser after the break:
Get the flash player here: http://www.adobe.com/flashplayer
Much thanks to our customers/home owners for sharing their projects. The 2 bedroom Plat House, and 3 bedroom Plat House can be found in our catalog.