Last year I started writing about my enthusiasm for Mineral Wool insulation, and now this past week I've seen the first installation of this insulation on a local project.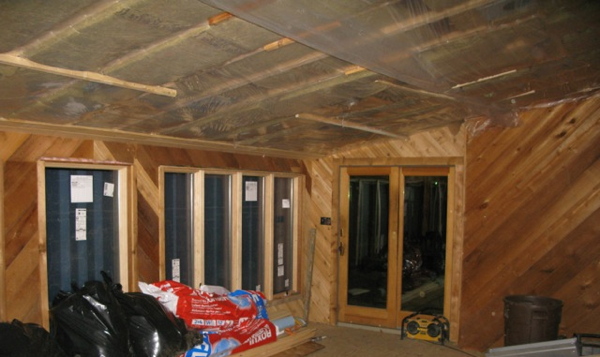 The mineral wool was used for renovation project, the conversion of an uninsulated 3-season room to full time conditioned space. Because the room has so many existing windows we wanted to achieve a higher insulation level in the roof. The existing framing was only 7.5" deep, not much room for insulation. So we added a 2x furring strip, combined two layers of mineral wool, one R15 3.5" (typically used in 2x4 stud walls) and one R23 5.5" (typically used in 2x6 stud walls), creating R38 in the 9" cavity we had available. We put Certainteed's Membrain over it for the vapor retarder. Its an un-vented roof and we wanted to be sure it would dry to the inside if any moisture got into the roof, so this variable permeability nylon is perfect in this case. You can see it in the photo above awaiting the finished ceiling. End note: The builder did all the cutting of mineral wool with the owner's 18" kitchen bread knife!
The owner emailed me his impressions:
The insulation is truly amazing. We are not far from the flight path into Philly. When standing in the Florida room last night you could barely hear the jets. Last night when I went to take Penny (pet dog) out by the Florida room door the room was amazingly warm and we have yet to turn on the heater this fall! When I opened the door the difference between the outside and the Florida room was remarkable.
This is why I'm advocating for mineral wool in the USA New Wall, because it achieves higher performance in the same amount of space as the status quo fiberglass batts, and the process of installing and working with batts is similar enough to not be intimidating to contractors. The contractor on this project had never worked with mineral wool before. Granted for the first time they did not like the differences from fiberglass, but they did complete the work with the same labor force and in essentially the same amount of time as they were accustomed to working. That is what makes mineral wool superior to blown in cellulose or spray foams when it comes to bringing people along, and coaxing higher performance out of builders who are not versed in higher performance.