We've completed a drawing sheet showing a range of 3 cladding options for the XHouse series of designs. This will be included in each plan set for the XHouse collection.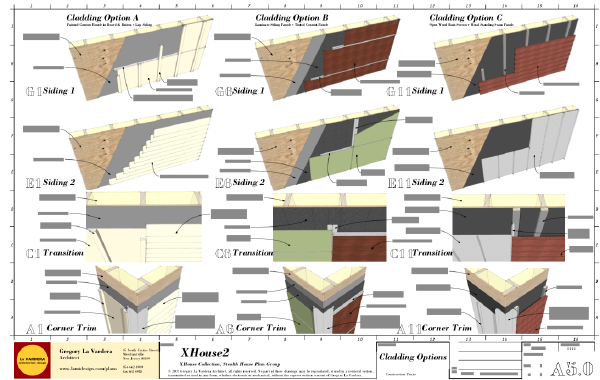 Our Construction Prints have always described a range of siding materials in the Owner's Choice portion of the Material List. The idea here is to show a range of siding options, from simple to more complex which would be specific to the designs. They also range in cost from less to more expensive, but our plans have always been about an open ended design that allowed the home owner to tailor the build to their budget and taste.
The first option is for painted cement siding panels a combination of board & batten and lapped siding patterns. This is the default siding pattern that is shown on our Original Collection designs. The XHouse designs also lend themselves to this cladding option as they typically include two different siding patterns on the walls. This is an accessible option as there is nothing tricky or unfamiliar about the installation, and most contractors will be completely familiar with this.
The second option is for a combination of laminate siding panels and through tinted cement siding panels. In this case the laminate siding panels are shown in a wood grain pattern. There are many siding panels available with this appearance, some with a resin impregnated wood surface, and others with a printed plastic laminate face - think formica for the walls of your house. The installation is shown for 24" high panels with metal flashed horizonal joints. This is not an inexpensive material but is quite handsome. The cement siding in this case is a through tinted material that requires no paint. The installation is a grid of panels with joints backed by metal flashing - no battens. This includes the addition of a drainage layer behind the siding for superior performance.This very siding scheme was featured on the 0751 RS House, and you can see it in those illustrations.
The third option is a combination of open wood rain screen cladding and standing seam metal panels. The rain screen is a recently popular look on many modern houses, and this is in fact the cladding scheme we have been featuring in the illustrations of the Xhouse Series designs. There are a range of woods that can be used for the siding planks, but the key component of this system is the vapor permeable water barrier that provides the final weather barrier for the wall system. The metal cladding is used on smaller portions of the XHouse designs, but is an important part of the overall look of the houses.
Just a little bit more work to complete on the XHouse2 Construction Print set. Look for the official intro before Thanksgiving.