We were very happy to receive an email from a customer that ordered their prints in 2007. We have not heard from them since and then suddenly out of the blue we were looking at photos of their completed Plat House.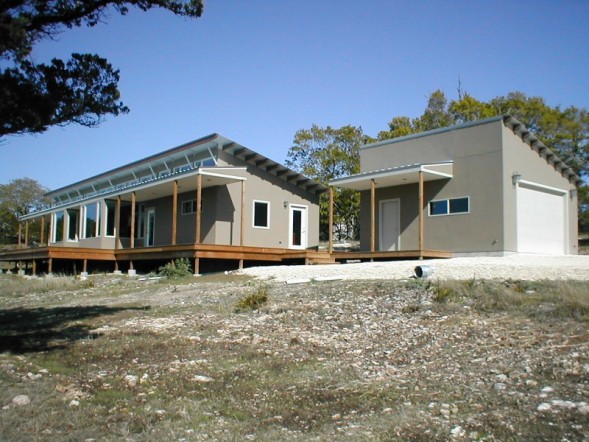 The first thing I noticed was that they have finished their house with stucco. This is the first time I've seen a Plat House clad with stucco and I'm very pleased with how the design stands up to this variation. It looks great and the stucco is a good match for the Texas landscape their house sits in. Second thing I noticed is that they've built very close to the plans. there are some changes to the windows - a few were dropped, but overall the roof overhangs, the deck on the view side of the house, the extension of the porch roof past the ends of the house, are all done as designed and are some of the distinct characteristics of the design. Third, the owners have created their own garage with a design that works really well with the house. The Owners served as their own General Contractors, and did all of the general construction work from the slab up. The husband is a cabinet maker and all of the kitchen, bathroom, and laundry room cabinets were made in his own shop.
The owners have been so kind to send us many photos. We have about 50 photos of the house as it is today, complete but not yet occupied. They have also shared over 100 photos of the house under construction - the most comprehensive set of construction photos we've ever received from a customer. The best part to me is the framing sequence. Here you can really see how simply the house goes together. If you find yourself trying to convince a builder that the house is not hard to build these photos can go a long way to that end. What follows are two slide shows, the first of the finished house, and the second of the construction photos.
You can also find all the photos in its own Texas Plat House Flickr set.