I am working on my first IBU house design. Some time ago I wrote an essay posted here about the coming of age of so called container homes. I promised myself and others I have corresponded with that I would try this summer to address this area of modern housing - the weird uncle of the prefab movement! I really would like to show that this is a viable and reasonable way to build a house. There has been a lot of interest in making homes this way and I think we need to make the path to realizing it easier, clearer, more available. There have been some esoteric proposals, and some high design, high art concept proposals. But there has not been a committed offering - here is a design, here is what it costs, pick out your options, and we will deliver it to your door. I want to see if we can make that happen. I am beginning with a small dwelling based on a single module. The dimensions of the IBU allow it to be readily transportable, no special road permits, which also allows us at this early stage to function with one manufacturing point. We can service any buyer from this location because of the nature of the IBU. This is going to be a single 40 ft heavy gauge steel module, 1 bedroom unit. It will be suitable as a remote cabin, or backyard guest house, or it can be combined to form multi unit structures.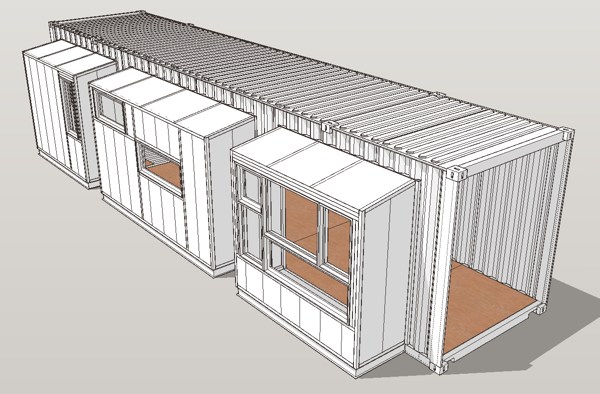 Multi unit structures can be formed with several different stacking schemes, with stairs and landings serving the individual units forming communal space between them on each level.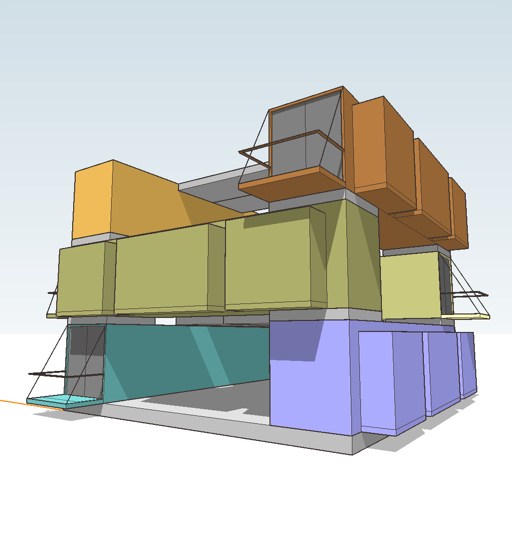 Ultimately I would like to find an outfit interested in finishing the modules, but for now they will be offered without interior finishes. They will include the structural shell, bays, all external windows and doors, electrical panel and distribution, split ductless hvac (condenser unit crated), and documentation to facilitate permitting. This looks doable for about 100$/sqft or about 40k for 400sqft, less in quantity orders. I think that compares favorably to other dwellings at this size. You need to bring to the party your utilities, footing piers (generally 6 piers) rough plumbing, interior finishes, cabinetry and plumbing & lighting fixtures. Accessories that may be shown in the illustrations like balconies and decks are not included in that number but we will have pricing for these items before we make a committed offering. Behind me in this is TAW (Tampa Armature Works) IBU division and David Cross. They are the willing partner in this, without which its nothing more than nifty drawings. This is similar to my relationship with Northern Steel who said to me that they were willing to build and sell modern houses. Our young modern movement can not afford to squander willing manufacturers like these. You can ask Michelle Kaufman, you can ask Joe Tanney from Res4A - finding somebody willing to build their modern houses is no easy task. When a manufacturer emerges that is already on board with building modern we have to embrace them and help them get product to market.
Technorati Tags: container house, modern design, modern house, prefab house